David Humphrey Blair

     letters and diary

Lexington, Ky

Oct 7th 1862

------------------------------------------------------------------------

Dear Sister

I recd yours of Oct 27th and would have written sooner but had not time. I want you to give me the dates of my letters as you answer them and also be sure and save all my letters so if I get home I can tell you more of our history by them. I wrote you a letter about Oct 28 and give it to one of the 118 Regt to male when we started from Falmouth. I recd that thread and likness you asked about also that (??? RRP) and now I want about 17 pins and a darn kneedle I want you to tell me where Alex is building and if he has got that land yet or not and also tell me something about my money. I almost forgot how much I sent Libie you may keep an account of it. I think I sent $6.00 at one time and $12.00 another and then $40.00 county bounty makes $66.00 and 30 out for Clark leaves $36.00 only.

Tell Alex to write and tell me all about the sawing business I wrote 2 letters to him and did not recd an answer yet. You didn't tell me where Sam was when he wrote I have not written to him or Jo eather since I left home because I didn't know where they were

I had to quit and go on battall drill and now have to write at night. I told you at home to send me P.O. stamps but you need not send them now as I can get plenty here now. Lizzie I dreamed last night for the first I believe that I was at home and I thought I sat down on a chair at the table either of which I have not done for near 3 months. When a meal is ready here we all gather round the cook tent like so many pigs till each one gets a tin cup of coffee and a tin plate with a cracker and piece of meat on it and then sits flat

Diary

I left home Aug [1] 10th/62, arrived at Camp Chase Aug 12th. Mustered into U.S. service Aug. 19th, 1862. Went to Cynthiana [2] Ky. on Aug 21st. Retreated to Covington before Bragg and Smith [3] on Sept. 2nd. 82. Left Cov. Sept. Repaired [4] railroad to Lexington [5] where we arrived Oct. Left Lexington Feb. 63, arrived at Danville Ky. Feb. where we were mounted on Feb. 17th/63. Left Danville Feb. 20th in pursuit of Col. Cluke rebel. After severe spring campaign [6] of scouting through eastern Ky. during very inclement weather the regt returned to camp equipage at Millageville, Ky in March/63. I was detached to Capt. Laws Mtn. Howizter Btry. Went to Somersett, Ky.

[1] Went to church with intent of returning in evening but did not. Went with T.A.B. then to Bellefontaine thence to Camp Chase and never returned home till July 29th.

[2] Camp named David Tod. Built fort near camp (rather stockade). Portions of regt were guarding bridges on Ky Centrel Railroad. After Nelsons defeat at Richmond, Ky on Aug 29th and paroled prisoners begin passing we retreat on cars. 96th OVI with us

[3] Camp named "Lew Wallace". We fortify on hill, sweet potato patch. The enemy comes up but does not assault.

[4] Bragg retreats and remainder of our army folows up. Our regt being detailed for construction corps After camp at Benton Station the regt marches and joins command at Falworth after repairs finished and thence all march to Lexington

[5] Camp named Ella Bishop in honor of a young lady of that name in Lexington who nobly waved and defended stars and stripes in city while rebels were present, defying rebel power

[6] Expedition generally called the "Hazel Green Scout" Also including Mt. Sterling and Owingsville expedition, all under Lt. Col. Miner and Col. Walker. Richmond, Evansville, Campton, Winchester, Fleminsburgh.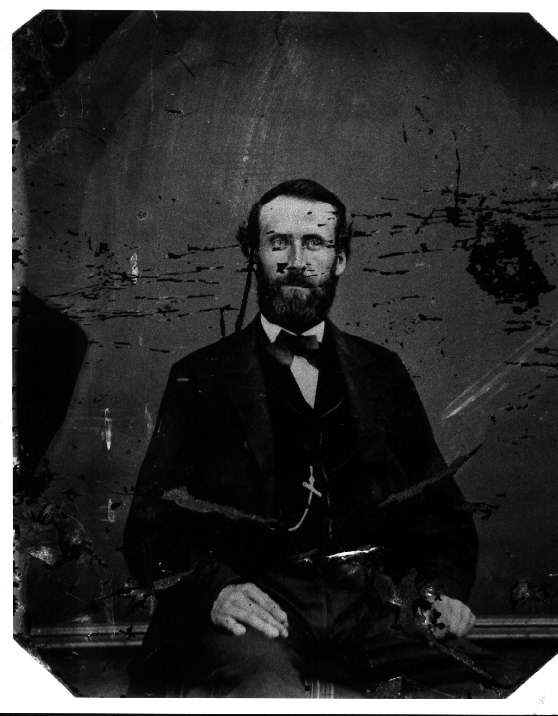 David Humphrey Blair enlisted in the 45th OVI in August, 1862 at Camp Chase, Columbus, and mustered into Company D. Born in Logan County, Ohio, Blair was twenty-one at the time of his enlistment and gave his occupation as farmer.

He served in the 45th until the end of the war and fought in all of the regiment's major engagements, including the siege of Knoxville, the Battle of Atlanta and the pursuit of Hood into Tenneseee. During this time, he kept a diary and wrote letters home that Civil

War historian Raymond R. Parker collected and his son Robert B. Parker posted on a pioneering Web site. After the elder Parker's death in 1996, his son maintained the site for several years, but finally closed it. Fortunately, I was able to download the diary and letters and am now presenting them here, for the most part in the form that Parker arranged them.

David Humphrey Blair in later life.